Announcing its partnership with the Vendée Globe around-the-world race, the addition of first "female Ulysses" Alessia Zecchiniand friendship with photographer Sebastien Copeland,Ulysse Nardin proves that 2020 will be a stellar year for Xotic  Xcitement and Xploration.
The evening marked several momentous events, including Ulysse Nardin's official announcement as of its partnership with the Vendée Globe race (official timekeeper), a daunting challenge during which one skipper captains his sailboat around the world with no stops, and no assistance. Vendée Globe Managing Director Laura Le Goff appeared in person to announce the alliance. To speak about the Vendée Globe better than anyone, Sebastien Destremau, French-Australian sailor and navigator was the master of the ceremony during the evening. Sebastian is a hero who made up his mind to attempt this fantastic Vendée Globe – perhaps the greatest challenge of his life – in 2016.
Present in a stunning Yves Saint Laurent gown (rather than in her habitual wetsuit and fins) was Alessia Zecchini, the first "female Ulysse" to join the male adventurers already in friendships with the Swiss haute horlogerie brand.  A multiple world champion and multiple record-holding free diver Ms. Zecchini continues to reach new levels of excellence; amongst her other achievements, in 2019 alone she her won two gold medals and one silver and set two new world records European Indoor Championships in Istanbul. On her wrist, the Lady Diver Great White, part of the fresh line of female diving watches. "It looks as lovely in the light of a camera flash at a VIP event as it does in the ocean's depths", Ms. Zecchini said of her timepiece.
Also among the 150 seated guests at the gala "Banquet sur la Banquise" (Banquet on the Ice Floe) was Sebastien Copeland, an acclaimed photographer who has dedicated his life to capturing pictures of his beloved but what he is worried is our dying planet. The photographs of the Antarctic and the Arctic – Earth's two extreme poles – are magnificent and terrifying; light blue icebergs, remnants of a time long past, punctuate dark seas, polar bears living and polar bears dying from the effects of a changing climate are awakening, breathtakingly beautiful and resounding images.
The elite group was also granted exceptional access to the 17th century chapel where the Pinault family has chosen to house part of its stunning art collection, which is only part of the art works amassed by Pinault over the past 40 years.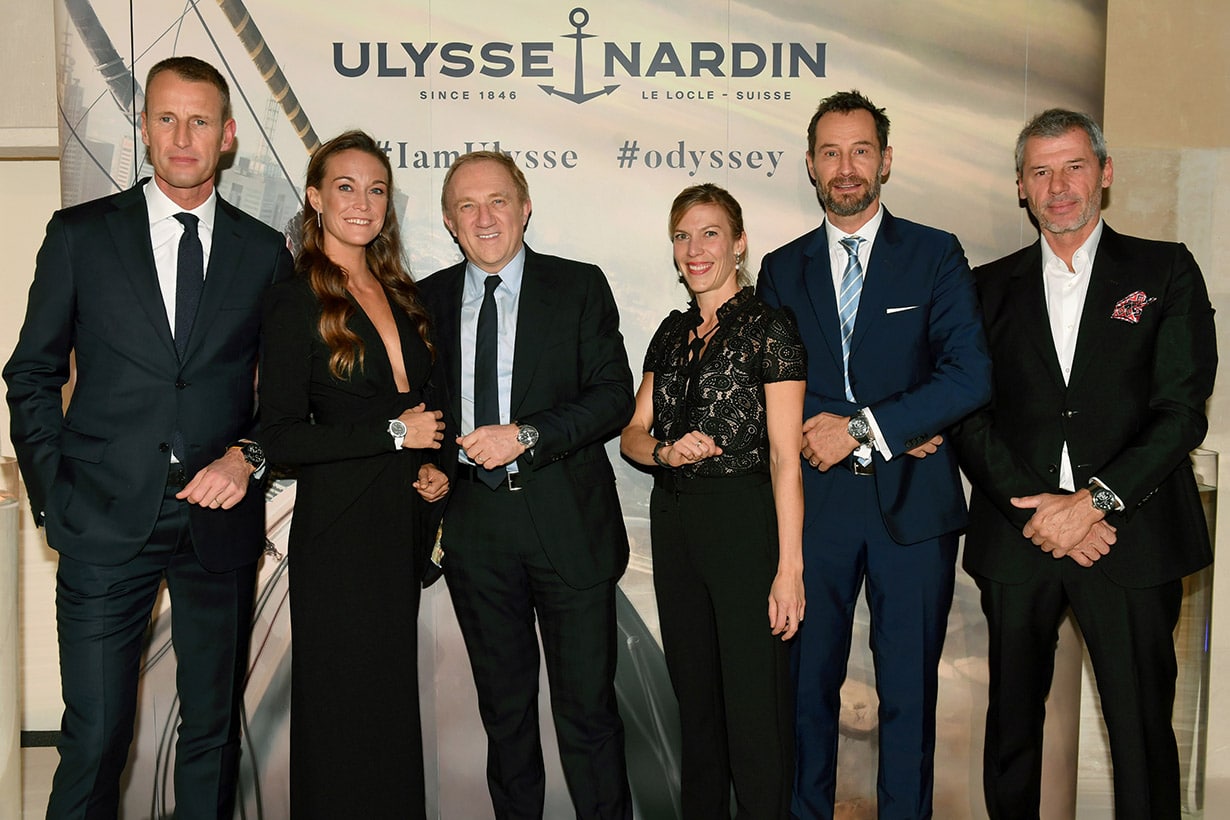 From left to right : Patrick Pruniaux, CEO of Ulysse Nardin, François-Henri Pinault, Chairman and CEO of Kering Group, Laura Le Goff, CEO of Vendée Globe, Sebastian Copeland, polar explorer, photographer & environmental activist and Sébastien Destremau, French-Australian skipper.